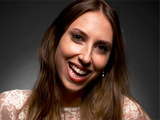 Sunshine has become the third person to be evicted from the Big Brother 11 house.
She received more votes from viewers than fellow nominees Caoimhe and Shabby, the latter having survived her second public vote.
The 24-year-old medical student appeared to accept the news rather well, hugging Ben and Mario, while Shabby seemed surprisingly glum at hearing that both she and friend Caoimhe had survived the chop.
Sunshine left the house to a chorus of boos from the eviction crowd and the sound of 'Steal My Sunshine' by Len.
At the start of the interview, she told Davina that she was pleased with her reaction, saying: "I thought it would be worse, so that was alright."
Davina revealed that Sunshine had received 42% of the vote and assured her that it had been extremely close between her and bookies'
favourite
Caoimhe.