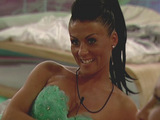 Corin revealed just how much she's appreciating her time in the Big Brother house when the party got underway last night, as she chatted to Steve and Ben.
"When we're all dancing about like this... we haven't got a worry in the world. And yes, we all miss our families and our kids or whatever, but we're proper buzzing. Like, really appreciating it," she gushed.
"We've all made it here. We're all winners... how many auditioned? And we're here! We're living the dream!"
She added that there's nobody in the house that she dislikes, nobody who annoys her and said that she wishes that everyone could see eye-to-eye all the time.
"We're doing it. Nobody's ever going to do this again. It's mint!" she finished, as Steve was inspired to make a toast to the Big Brother experience.