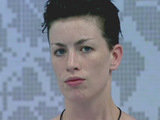 Caoimhe expressed her dislike for bubbly housemate Corin this evening, during a heart-to-heart with John James and Josie.
"I believe that the majority of stuff that comes out of her mouth is totally false... nobody is that happy all the time. Give me a break," she spat.
"You can't be that nice, that long, forever," agreed John James.
"A word that comes to mind when I think of her is 'rough'," continued Caoimhe, though Josie disagreed. "I wouldn't call her rough," she defended.
"I think a lot of us get on her nerves... like Sunshine got on her nerves. I definitely get on her nerves," said the Australian, as Caoimhe added that she doubts Corin has much time for her either.
"I don't know what she wants from this [experience]," she mused, to which John James replied: "A shoot in
Nuts
magazine."