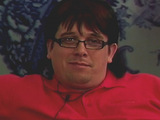 David, Ben, Josie and Caoimhe have had a heated debate on religion after the girls confronted David with accusations that he had called homosexuality "immoral".
Under the assumption that the 39-year-old minister had made the claim during an earlier conversation about marriage with openly-gay housemate Mario, Caoimhe and Josie asked David where he stood on the subject and whether he agreed with the Pope's controversial comments on homosexuality.
"Off the back of the one conversation there when we were talking about marriage and the breakdown of society, someone goes running off and saying that I said something was immoral," David complained. "We were talking about marriage, not sexuality... my opinion is that God is love."
Josie and Caoimhe claimed that they were not accusing David of being homophobic, but were frustrated that he would not answer their question, believing he feared how this could effect his popularity with the public.
Ben stepped in to answer the question on David's behalf, saying that the condemnation of homosexuality in the Bible is merely a code that individual followers are free to accept, reject and only follow to an extent that they feel comfortable with.
David then accused Caoimhe of stubbornly sticking to her original judgement of him, adding: "Since I came here you've had a stereotypical mindset of what a stereotypical Catholic should be like." Caoimhe denied this but David continued, blaming people's mindsets for him being nominated for eviction in three out of the last four weeks.
"There is so much crap that has gone on that has coloured anything that people would call religious... I knew it would be tough because of people's mindsets," he said.
"It took people four weeks for people to see who I was without those mindsets... I've had people come up to me saying they misunderstood who I was and they were sorry."
Caoimhe assured David that she does not think about differently of him because of his faith and she and Josie repeated that they were not trying to accuse him of being homophobic.
David praised Caoimhe for the "strength" she had exhibited during the debate, before drawing the debate to a close by saying: "I think it would be obvious to anyone in here what I believe."