Reality TV News
Housemates lay into 'fake' Corin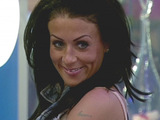 Several housemates have hit out at Corin for her "fake" behaviour.
Following their heated
discussion
over Mario, Ben, David, Caoimhe and John James turned their attention to Corin. Caoimhe and John James agreed that they weren't fooled by Corin's happy-go-lucky attitude and remained unconvinced that any of her behaviour in the house was completely genuine.
"It's her voice, it's the constant singing… I see through it," said Caoimhe. "We saw the real her the other night and we (herself and John James) had seen it before." Dave agreed that Corin's
outburst
during Sunday's house divide had "shocked" him and predicted that she could cause some major arguments in the house.
Later in the evening, Caoimhe further explained her dislike of Corin to Ben, saying: "She obviously can see that I don't respond to her as other people do, because other people idolise her. I would much prefer her to acknowledge that, 'OK, there's something wrong here', and for her to stay away from me." Caoimhe did however agree with Ben's belief that Corin has good values and honest intentions behind her consistently happy attitude.