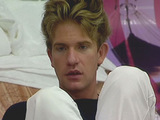 Ben and Corin discussed playing a prank on their fellow housemates this evening while the two lay in bed together.
Ben had been
teased
by housemates earlier after they suggested that he fancied Corin and had moved to share a bed with her in order to get closer to her.
As everyone began to go to sleep Ben told Corin that he thought they would have a lot of fun now and said that they should plan a prank to play on the others.
After Corin suggested that they feign an argument with each other or wake all the housemates up before the usual alarm, Ben simply agreed that they should think about it and carry out their prank tomorrow evening.
As they fell asleep, Ben told Corin: "Night baby, we'll have so many adventures."
The housemates, many of whom are usually up until 3am or 4am, were all asleep in bed by 2am after Ife suggested that they get an early night ready for Thursday's task.