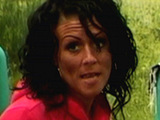 Ben asked Corin this morning what his good and bad points were, but ended up disappointed as she listed far more negative than positive traits.
She quickly told him that he is "very sneaky" and that, "it's all about you" before clarifying that she did not mean that in a bad way.
Corin insisted that Ben had a philosophy of, "what's yours is yours and what's mine is yours", to which Ben said he would probably agree with that.
After Ben asked whether or not she saw him as kind, Corin thought for a minute before simply saying, "Yeah, I guess".
"You don't have a very high opinion of me do you!" Ben laughed to her.
She replied that she did and loves his funny side but Ben continued to try and suggest positive attributes that he possessed.
"I think I see people as people and talk to everyone. Is that true?" Ben pleaded.
"Yeah, you chat around," Corin said after a long pause.
She then tried to change the subject to Ben's hairstyle but Ben seemed to be intent on having some reassurance of his good points and carried on suggesting more positive attributes to her while she did her hair.