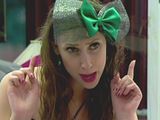 Several housemates have said that they are missing former housemate Sunshine's presence in the house.
While attempting to predict the outcome of tonight's eviction, Ben, David and Steve agreed that they were not expecting to see the 24-year-old medical student booted out last week.
Steve was the first to express his fondness of her, saying: "I did not want her to go, I did not want Sunshine to go last week."
"We've really actually missed her haven't we?" agreed Ben. "She used to lighten the mood. Even her strops were entertaining."
Steve then praised Sunshine for being a "funny girl", while Ben said that she clearly had "a lot of ability".
The loss of Sunshine was also noted earlier this week, with several of the group commenting that the house is not as energetic or entertaining without her.