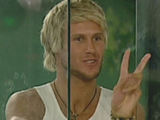 John James is certain that he will be evicted from the Big Brother house tonight after hearing shouting from over the garden walls.
Chants of "John James out" were heard by housemates in the garden, but rather than be upset the 24-year-old Australian appeared to barely be effected, saying: "The only thing that's strange about it is to know that people know your name."
Later in the evening, John James told Steve that the cheers had convinced him that his vote against Nathan would be no contest. "I forget that's it's even two people, I've just started thinking I've got to wait until ten o'clock 'til I go," he said. "Isn't it strange that I've said it that many times to my brain that I'm thinking [that]?"
John James also laughed off fears of a negative reaction from the crowd, saying: "In a way I think I'm a little bit abnormal because I think the louder they boo, the more they care.
"I'd rather go out to the loudest boos I've ever heard than nothing."
Despite appearing ready and willing to leave, John James made it clear to Steve that he had thoroughly enjoyed his time in the house and if he had the chance would do it all again.