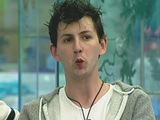 John James has been questioning whether the process through which Mario achieved housemate status was entirely genuine.
Relaxing in the garden with the former mole, John James questioned whether the random selection through which Mario was chosen on launch night was entirely fair and whether his much speculated-upon
secret
had something to do with how he won his place in the house.
"Funny how you managed to mole your way into Big Brother," he said, before suggesting that he would "find out something" by probing deeper into Mario's entrance. Mario told him that his 'secret' was something else and claimed that he auditioned to enter the house the same way as everyone else, reminding a nearby Steve that the two had a conversation at a pre-show press day.
John James was still unconvinced. "Do you believe they rigged it for you to come in?" he asked. When Mario failed to provide an answer, the Australian housemate backed down, accepting that even if the draw was fixed, Big Brother would never admit to it or reveal this information to Mario.