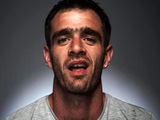 Nathan has become the fourth person to be evicted from the Big Brother 11 house.
He received more votes from the public than fellow nominee John James and departed the compound to the sound of 'Bitter Sweet Symphony' by The Verve.
At the start of his interview, he told Davina that he felt out of his comfort zone and found his eviction daunting.
Davina revealed that Nathan had received 89% of the vote.
Only Josie and Caoimhe nominated Nathan this week. He went up for eviction after Caoimhe chose him to replace her after she won the 'Save & Replace' task.