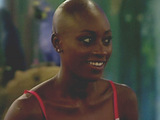 Ife has failed her superhero task this afternoon.
With only David and Andrew left to be saved, Ife was the penultimate girl to take on a challenge from the 'Uber Cougar.'.
'Ife Incredible' had to lift a car up above her head for five minutes, she had to keep her arms straight and stay on a designated spot throughout.
"Off you go Ife Incredible, let's see what you've got," challenged the 'Uber Cougar.'
The group headed to the garden to support Ife, while kidnapped housemates David and Andrew watched via televisions in the task room.
Ife got underneath the mock and lifted it over her head as the claxon sounded. As she began to hold the car up a combination of the high heels from her costume and the weather conditions took its toll.
"It's the wind," Ife complained, as she was knocked off balance.
She managed to regain control and continued to hold the car up with relative ease.
"It's not heavy, she'll do this," Dave told Andrew as they watched.
After around two and a half minutes another gust of wind pushed Ife off the spot; as she tried to adjust her grip she dropped the car, failing the task.
"How unfair - the wind," Ife stated.
"That was an unfair game that," Steve added, as the group headed back inside.
Ife's failure means that neither Andrew or David were able to rejoin the house and the pair fully expect to stay kidnapped overnight.
"That's us settling in for the night then," said David as he and Andrew sat back down on their beds.