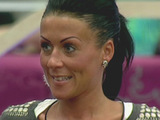 Corin has been pondering what it will be like to be recognised in the outside world.
Earlier this morning, she chatted to Rachel in the bathroom while most of the other housemates were asleep.
"I'll be in Asda on Monday," she said. "It will be funny to walk around Asda won't it with everyone going 'Oh it's her from Big Brother'. Can you imagine? It's funny that, i'n't it? I won't be able to buy Whoopsies for a while - I'd be too embarrassed."
Rachel asked what 'Whoopsies' are and was informed that they are the items that are reduced at the end of the day with yellow labels on them.
Corin said: "I'll go and buy a couple of sandwiches and they're like 10p and stuff but I'll be too embarrassed now 'cause I know people will look at me."
Later, Rachel spoke to Ben and Josie about their impending fame. "I just think that people have got too much big expectations," she said.
Josie agreed, saying: "People only remember you for about a minute and a half.
"Anyone who comes in here and expects this to change their life needs to have a word with themselves.
"But it was a good experience though. It's been a nice little holiday."