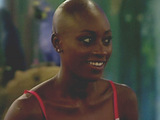 Ife has become the fifth person to be evicted from the Big Brother house.
After gaining 56.5% of the public vote the dancer left to the housemates chanting: "We love you Ife," followed by a mixed reaction from the crowd outside.
As Davina began the interview by asking how she felt, Ife replied: "I don't know, it feels like everything's just - 'cause when you're in there it feels like you've been in there a year."
When asked why she thought she was nominated, Ife explained that she thought it was because she is not part of any particular group and spends "a lot of time in the bathroom by [herself]".
Davina then showed her five nominations this week from Josie, Caoimhe, Ben, John James and David.
"I wasn't surprised at Josie, John James and Caoimhe," Ife said, when probed by Davina.
"They're quite tactical, they would have known who they were voting for - I wish I'd played the game a bit."
Speaking on David's nomination she added: "I feel a bit silly 'cause I thought we were alright but obviously not."
Davina then described how Ife's honesty had got her in trouble with her fellow housemates - in particular Shabby and Caoimhe who she had branded "boring".
"I don't want to be honest in a bitchy way," Ife explained. "I couldn't make up with Caoimhe knowing what I'd said about her - then we'd have a fake friendship."
As Davina turned to the phone votes a caller asked why she was boring in the house and "didn't do much".
Ife replied: "I went in there to find out who I was and what I want to be. I didn't go in there to prance about."