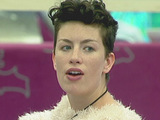 Caoimhe has walked out of the Big Brother house after visiting the Diary Room.
The housemate had been
vocal
in her desire to leave in recent days, leading to her being banned from this week's nominations. Last night, she told Big Brother that she wanted to leave and see her boyfriend and family.
She previously said that she wanted to depart the show when Shabby exited through the back door, but opted in the end to remain in the house.
The Dublin-based student told her fellow housemates that she valued her boyfriend more than continuing with the Big Brother experience. She also claimed that she was not enjoying her time on the show and that other people "wanted it" more than her.
All the housemates gathered around the Diary Room and cheered Caoimhe off as she said farewell to the remaining 10 contestants. Following her departure, John James burst into tears in the nest.
The 22-year-old exited at 1pm after spending 42 days on the show.