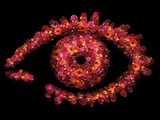 Corin and Andrew tonight performed their live duet in front of over a thousand people.
Yesterday, Andrew Stone announced that he had chosen the pair to sing '(I've Had) The Time Of My Life' in front of tonight's live crowd as part of this week's 'BB High' task.
Before the live performance, Davina asked Stone why he picked Corin and Andrew. "They're priceless, you've got to see it!" he told her.
Later, Corin and Andrew stepped outside the Big Brother house waving and smiling to the crowd. Their performance got off to a shaky start as Corin forgot when to come in. However, the pair laughed it off and continued on with their performance as the crowd cheered them on.
Afterwards, they returned to the house on a high. Andrew was laughing uncontrollably and Corin shouted: "Oh my God! It was amazing. I can't believe it. Can you believe that?"
Big Brother then confirmed to the house that the group's music video has received over 121,000 hits and Corin and Andrew successfully performed their duet. Therefore, the housemates have passed this week's shopping task and will receive a luxury shopping budget.