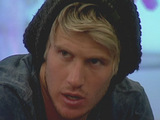 The housemates have been teasing John James this morning over a healthy rivalry that appears to be developing between him and JJ.
While John James was in the shower, Josie asked JJ whether or not he was competitive.
"You know how John James loves winning, well in tasks he's got a bit of competition now," Josie said to JJ.
"When he's in teams and he's not winning, does he get really annoyed?" JJ asked, and Josie confirmed that he did.
Later as the housemates got ready, Josie noted how both JJ and John James both had more types of toiletries than she did.
"I've never met two blokes that are so similar," she declared. "My god it's so freaky!"
John James, JJ, David and Mario then all decided to exercise together in the garden, with JJ walking them through various types of push-ups and sit-ups.
"Why don't you see who can do the most?" Josie shouted to them as Laura noted that it would be interesting to watch them compete.
As the boys finished a round of push-ups, John James continued to do a couple more than the others.
"Did you just try to get one up on him?" David asked John James with a smile. "[JJ's] already pinched a few of John's fans now!"
"Oh look at John James taking it dead serious," Rachel laughed to Josie as the two watched. "You can't beat a bit of competition."
Josie then joked with JJ about whether he was any good at football, referring to her gushing about John James in a football kit.