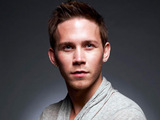 JJ declared that he hates gold diggers this evening, during a chat about the opposite sex in the garden.
Talking to Mario, Rachel and Josie, the professional boxer admitted that he finds ambition an important quality when it comes to girls.
"You could want to be a teacher or the world's best road-sweeper... as long as you've got ambition. A lot of girls these days are happy just to latch onto someone who's got a lot of money... a footballer, or somebody famous," he blasted.
Mario agreed, saying that he was shocked by some girls' attempts to snare a celebrity boyfriend. "I've been to loads of clubs where I meet a girl and literally the first thing they ask me is if I'm a footballer... when I say I'm not, they just walk off," he told the group.
Josie seemed unimpressed, too. "I would never want to go out with a footballer after all the stories I've heard about them," she admitted.