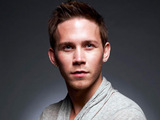 JJ has revealed that he regrets saying that he will win Big Brother.
The boxer opened up to John James this evening as they sat chatting in the garden. There has been paranoia amongst the housemates today that there will be a
surprise eviction
.
"I just wonder if there's gonna be a twist tomorrow with the whole nominations thing," said JJ.
John James asked: "Are you still worried about if they're gonna get two of you to stay in, like?"
JJ said that he wasn't worried, but had been thinking about a comment John James had made previously. "You said it like if the public don't want you here, then what's the point in staying?" he said.
"If you went up for the public vote and you stayed or whatever, you might not necessarily be the most popular because it's an unpopularity contest," explained John James. He explained that when he stayed in against Nathan it made him feel good.
"But then you can't think about it too much. If you think about the public too much you might change who you are," warned John James.
"I'd rather be myself and leave on day four. A lot of people are that scared of leaving that it may force them to do things that they wouldn't normally do."
JJ said that he may have annoyed the public before he entered the house. "I must have sounded like a bit of a prick," he said. "Because I was like 'Yeah, I'm gonna win if I get in', kind of thing. Because I was thinking I'd love to win it because I'm a competitive person.
"I'm not really bothered if I win now. I couldn't care less. As long as I have a good time in the house and I have some memories to come out of it, that's a big enough prize for me.
"If I was to win it, the money's a bonus, but I feel a bit stupid now for saying 'Oh yeah, I'm gonna win'."