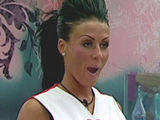 Corin spent the evening embarrassed after admitting to JJ that she thinks he's "fit".
After Josie and John James probed her about her feelings for the newcomer, the Katie Price lookalike called him into the bedroom to confess that she had said he was good-looking.
"These two are trying to make out that I fancy you. And yeah, you are fit. But these laugh and I feel embarrassed," she told the bewildered boxer. "I thought that rather than be embarrassed I'd get that off my chest," she continued.
However, JJ and John James swiftly left the room, prompting Josie to say: "I think we've just been totally dumped on TV."
Corin thought that the conversation had been a success anyway. "I'm glad I said that - I was waiting for the response and it wasn't half bad," she admitted.
Later on, she began to worry about how her affection for JJ would be portrayed, given that she fancied former housemate Nathan and has now forgotten about him. Josie and John James reassured her that she's not "making a dick of herself" and advised her to put on her hotpants and stroll across the room to get JJ's attention. "Oh, I wouldn't do that," she replied.
"I've never seen Corin like this!" laughed John James, explaining that JJ doesn't know how to handle her confession because he's shy. "I'm not feeling that he's thinking, 'Oh yeah, she's fit'," she worried.
"Oh what the fuck Corin?" replied the disbelieving Australian, telling her that of course she is attractive.
"I don't think I'm fit. If I did I wouldn't get up at 6am to do my makeup," she admitted.