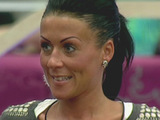 Corin, JJ, Josie and John James have spent the evening hatching a plan to stage a double date picnic tomorrow.
After Corin
admitted
that she thought newcomer JJ was fit, the Katie Price lookalike got embarrassed - but best friends Josie and John James worked to make her feel more comfortable by organising a bonding session for the following day.
"I hope you're being serious because now I'm thinking that we're going to have a picnic," said a hopeful Corin, after the picnic idea was suggested during a chat in the bedroom.
"Are you being serious or are you joking? I really think like, oh yeah we're actually doing it," she continued, as the boys assured her that they weren't joking. "Where shall we meet?" asked John James.
"At 3 o'clock by the carousel!" suggested Josie, who decided that they should prepare chicken sandwiches for the occasion.
"I think we should ask Big Brother for something special. A blanket and a bottle of wine," interjected JJ. "Oh, that'll be so nice won't it," replied Josie. "I'm really looking forward to tomorrow now!"
Corin then decided that the foursome shouldn't talk to each other at all tomorrow morning so that they have "things to say to each other" during the picnic. "Right then. It's all sorted," announced JJ.