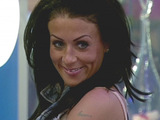 Several housemates have been discussing Corin's crush on new housemate JJ.
Sitting in the nest, David and Ben agreed that they had noticed a change in Corin's behaviour, most noticeably her sudden buddying up with John James, in order to spend time with the 23-year-old boxer.
When asked how the new arrival reacted to Corin's drunken
admission
that she fancied him, John James said: "I think he was just stunned. She said 'JJ, I just want to let you know you're fit' and he was like, 'Okay'."
The boys then agreed that they did not see Corin as being particularly attractive, with Ben adding that the Katie Price lookalike's behaviour was too much of a "pantomime" for him to consider her an object of desire. "I don't imagine Corin doing intimacy," he explained.
However, the 30-year-old writer and broadcaster did express his concern that Corin's chasing of JJ could damage their own friendship. "When you have that level of closeness with someone it does feel a it weird when they're off on another thing," he said, before rejecting any suggestion that he was jealous. "We're not romantically involved, we're just friends that's it."
Meanwhile, David had other worries about how Corin's attraction could affect him personally, stating that he did not want a loved-up house.
"My concern with JJ coming in is that all the conversations are going to revolve around relationships and that's crap dude," he said. "I don't want it to end like that."