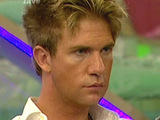 Ben has hit out at Mario, claiming that he is jealous of all the attention Big Brother is paying him.
Earlier tonight, the writer and broadcaster was called over to the sofas by the majority of the group to weigh in on Mario's
down mood
, which John James put down to him still being upset at Ben rejecting his romantic advances.
However Ben claimed that the fact that he was getting more chances to take centre stage on the programme, for example through the
stand-up comedy routine
and the
'Ben Day'
, was the real source of Mario's problem.
"The pattern is whenever I've got anything like that he's gone a bit crazy," he stated.
Ignoring John James's suggestion to fight it out with Mario and Josie's idea that the two should resolve their issues with a kiss, Ben continued: "He's got a lot of sides, [some of] which are really lovely, but he is really volatile.
"He's got jealousy issues and he's got anger issues. He's come into the show that he's dreamed about for ten years, he's never been put up for nomination, he gets on with everyone to a point, what's the beef?"
When John James passed on that Mario had said he wanted more tasks to entertain him, Ben immediately hit back: "That's ridiculous, that's spoilt… That would be like me going, 'Right we're not doing a team game 'cos I don't like them.'
Earlier tonight Ben admitted to being increasingly irritated by Mario's
'bitchiness'
towards him.