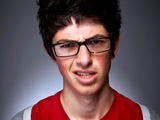 The housemates reacted to Sam's unconventional Big Brother clothing choices as he unpacked his suitcase this morning.
Collecting the trunk from the kitchen, Sam teased a curious Rachel by telling her that she wouldn't believe the clothes he had brought with him. Heading to the bedroom, he began to unpack as a bemused JJ and John James looked on.
"Is that all you've brought?" JJ asked, as Sam rummaged around his half-empty suitcase. Sam replied: "Yeah - check out these bad boys," lifting up a pair of fuschia-pink velour tracksuit bottoms. John James and JJ chuckled as Sam explained: "I've brought hardly anything and it's all dress-up stuff, for a laugh."
As Jo came to watch the 21-year-old pull out a series of comical clothing items and accessories, including sequin trousers, a red leotard, a dooly bopper headband and a top hat, she asked: "Do you do amateur dramatics?" Sam initially replied yes, before laughing and admitting that he doesn't. "I'm quite gullible," Jo warned.
Donning his top hat and wrapping himself in a pink duvet, Sam jumped from bed to bed as he said: "I wanted to see the bare minimum of ridiculous clothes I could live off." Mario quipped: "Well you're going to find out!" After putting on the pink velour tracksuit, Sam wiggled his bum to cheer up a crying Jo, prompting Steve to ask: "And you're telling me you're a straight boy?"
While most of the housemates ate breakfast at the kitchen table, John James burst out laughing. When Steve asked what was funny, the Australian replied: "You'll see," as Sam walked into the kitchen wearing the sequin trousers with a cut-off baggy white vest, floral scarf, top hat and headband.
Defending his outfits and claiming that his friends packed his suitcase for him "on a dare", Sam changed the subject by asking: "Have you seen my giraffe boxers?" Mario sarcastically asked: "Do you wear them by themselves or over other pants?" Sam simply replied: "I can wear those bad boys any way I want."