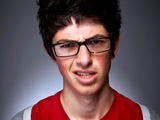 Housemates are speculating that Sam is taking part in a secret task after the 21-year-old changed into a number of flamboyant outfits.
Revealing the
contents of his suitcase
this morning, housemates seemed shocked at how little Sam had packed. Suspicion grew further when the graffiti artist changed into three different outfits in less than two hours.
Sensing that the group was wary of his attire, Sam asked: "Why would you say this is a task?"
"Because you're getting changed again and again," responded Corin.
His third outfit of the day brought a comical reaction from fellow housemates. Sporting a white top and trousers with gloves, a red vest, a top hat and a tutu, Steve remarked that he looked like a cross between and ballerina and a mime artist.
Maintaining a straight face before bursting into laughter, Andrew commented: "You've got excellent taste."
In the garden, John James and JJ were convinced the unconventional outfits were part of a secret task. "If he can convince us they're his real clothes then he will get his real clothes back," said John James.
Sam denied that he was part of a secret task but did say his choice of clothing was "not the most practical".