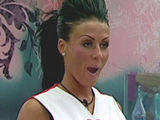 Jo and Corin discussed Corin's crush on JJ earlier this evening, with the self-confessed cougar telling her: "You're lucky because no one's making any kind of issue of it."
"Which they won't, because I've just said he's fit," protested Corin. "Which is what I think... but I'm just embarrassed. I hate being embarrassed."
"You must like him a bit more than thinking he's fit... I think he's fit, and I'm not embarrassed," reasoned Jo.
"No, but I do just think he's fit. But he's also a dead nice person. And he does loads of stuff like washing-up," she replied.
The 41-year-old added: "He's been brought up well. For a young lad, he's good... but you must think he's more than fit. Would you go out with someone younger than you?"
After thinking for a moment, the Katie Price lookalike replied: "Well, that's it. Today I was sat in front of the mirror and thought, 'Jesus Christ, Corin, you look like his mother!'"
She continued: "I love his accent. I think, 'Ooh, you've got a fit voice'," she added, realising: "Yeah... he's fit and I fancy him!"
"Yeah, you've got a little crush on him," agreed her friend. "There's nothing wrong with having a little crush. And don't let anything ruin your experience. You're having a ball."