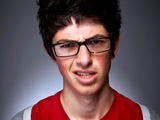 While Andrew and Corin continued to enjoy their
Arabian date
in the "love nest" this evening, Sam - whose job was to fan them in silence for the duration of the treat - decided to get up to some mischief.
As Andrew and Corin exited the nest so that the Katie Price lookalike could smoke a post-dinner cigarette, the newcomer set about wreaking havoc on their meal - pouring water into their champagne and helping himself to morsels of food and drink.
He then grabbed a horn that had been provided and sat beneath the door to the nest, lying in wait for the duo's return. Sure enough, they headed back in not long after, and the cheeky graffiti artist made Corin scream and jump when he blew the horn loudly as she opened the door.
Not long after, Big Brother announced that the date was over, and, finally allowed to speak, Sam suggested to the duo that they play a trick on the rest of the housemates.
"I'll tell them that I had to leave because it was getting too heated in here," he exclaimed, running off to the bedroom to tell the group that their flirting was out of control.
"That's embarrassing!" laughed Corin.