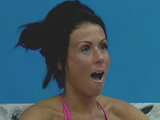 Corin enlisted Jo's help in finding out how JJ feels about her this evening.
Speaking in the bathroom after most of the other housemates had gone to bed, Corin recounted to Jo how the two ended up talking in bed together before housemates started sleeping.
"I would tell the truth, I wouldn't encourage you along," Jo said afterwards. "I don't think he's overly affectionate but he is a bit affectionate - you don't push yourself on him but Rachel is a bit more friendly."
However, Corin maintained that JJ wasn't attracted to her because he would have said something by now, and that she simply wanted a good friendship between the two.
"I've been in here two months not seeing anyone," she said, adding: "I wanted to smack his bum when I walked past him last night."
The two then hatched a plan for Jo to ask JJ who he would have chosen for the Arabian Nights treat earlier today. As he had already said he would pick Corin, she could tell him that she would have chosen him also.
However after JJ confirmed his choice and Jo asked Corin who her selection would have been, she simply replied: "I would have liked to pick everyone."
Speaking later, Jo said: "You ask me to do it then I bloody do it."
"It was too obvious," replied Corin. "I said, 'I would have gone on the date with you but I wouldn't take him' - oh what an arse."
Jo saw the problems facing Corin's attraction.
"I would hate to be in your position 'cause every day I would like him more and more," she said. "And he's the kind of person who gives you attention but doesn't show he likes you."