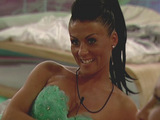 Corin and Mario discussed Corin's crush on JJ this evening, after the Katie Price lookalike admitted that she was drunk.
Revealing that she was disappointed the pool party had been cut short, as it would have been a good opportunity for her to spend time with the boxer without being embarrassed, she announced: "I don't think I'm his type."
She explained: "He'd want someone that's naturally pretty, doesn't wear a lot of makeup - doesn't have fake tits for a start."
"There's nothing wrong with your breasts," said the former mole. "Well I know I like 'em, but it's not everyone's cup of tea," she mused. "I feel like I've made a tit of myself on national TV."
Coming up with a plan of action for the lovestruck retail worker, Mario suggested that when she wakes up in the morning she should go and tickle him. "I wouldn't do that!" she protested.
"It's harmless enough," he objected. "Or, do it to me then do it to JJ. Just do that."