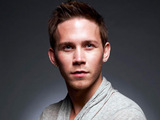 JJ confessed to being confused as to why John James keeps being nominated this morning, in a private conversation between the two friends.
As they spoke in the bathroom about the possible reasons John James had been nominated multiple times, JJ revealed that he didn't understand what John James had done wrong.
"I guess I'm just an easy target," John James told him.
"Other than your little argument last night I can't see any reason why people would nominate you," JJ replied as John James admitted that he tried not to think about it.
"I think the difference is, even though I set myself up, no-one says a word to me," John James then claimed. "The people that have nominated me don't address anything with me."
He said that he hated the idea that no-one seemed to confront him about issues, suggesting that they just "mouth off in the Diary Room".
Conversation then turned to the impending eviction, with JJ predicting that it will be Rachel who leaves on Friday.
"Both of you are pretty well liked," JJ told him, referring to John James and David. "But I don't know about Rachel as she came in late."
They both agreed that Rachel's loudness could be very irritating, but were unsure whether the public would feel the same way.