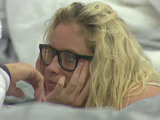 The Tree of Temptation has set JJ and Josie a new challenge involving stealing various props from the other housemates.
Originally, JJ was supposed to have the task on his own as the Artful Dodger, but Josie walked into the bathroom just as the Tree was speaking, causing her to laugh and JJ to leave.
She said: "I just caught the Tree right out".
Shortly afterwards, the Tree was heard talking to Josie, telling her to "shut up" about what she had heard, and decided to include her in the task as well.
When the pair were finally on their own in the bathroom, the Tree laid out the details of the task. He declared himself as Fagin, and told them that they need to "pinch five of those silly props", and put them inside his drawer. The props include Scrooge's candle, David Copperfield's wand, Sykes's dog and Oliver's pocket watch.
The Tree also told them that they have two hours to complete the task, and that their prize would be doubling their overall task winnings and a video of their 'Consider Yourself' performance.
The duo quickly set about stealing the items. However, JJ put John James's shoes and David's hat inside the Tree's drawer. The Tree promptly told him they were not on the list. Just as JJ tried to take them back, John James walked into the bathroom and caught him in the act. The pair did not say anything to each other, but they both grinned as JJ left the room.
John James proceeded to stay in the bathroom for a while, waiting to see if the Tree would say anything. John James told the Tree: "You could be a little more quieter."
Despite the setback, JJ and Josie continued to collect items, including Mario's wand and Corin's candle. They agreed that it would be difficult to steal Steve's dog, as he would "know something was up straight away".
However, they appeared to place five objects inside the Tree's drawers, including Andrew's pocket watch, after Josie told him: "I wanna put a photo of me in there."
John James kept quiet about what he had seen, but told Josie he "felt bad", for possibly ruining the task. Other housemates appear to have found out about a secret task, with Corin noticing her candle had gone missing.
Josie joked: "It's funny that John has been washing his clothes in the bathroom all day."
The pair have been successful in stealing five objects, but it is unclear whether they have passed the task or not after being caught out by John James.