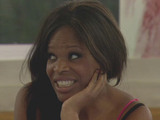 The housemates have been playing the 'I Have Never' drinking game.
Big Brother treated the housemates to extra alcohol this evening so they decided to have some fun and play a drinking game. Sam suggested they play the 'I Have Never' game, in which players take it in turn to tell the group something starting with "I have never..." and everyone who has done the deed must drink.
After warning Josie and Corin earlier in the garden about what she was going to say, Jo said on her turn, "I''ve never wanted to snog the face off a current housemate."
Andrew, Mario and Josie drank, indicating that they did want to kiss another current housemate.
"JJ won't kiss me!" joked Mario, while Andrew would not reveal who he fancied.
Corin had already told Jo and Josie that despite admitting to fancying JJ, she wouldn't drink because it would be too embarrassing.