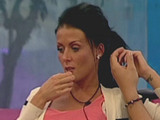 JJ has told John James that he doesn't have feelings for Corin, after a game of 'I Have Never'.
During the drinking game, a question included whether the housemates had ever fancied another member of the house.
Mario drank, later revealing that he fancied Nathan, as well as Ben during his time in the house. However, neither Corin nor JJ drank, implying they had never fancied anyone.
Later, John James probed JJ for information regarding his feelings for Corin.
JJ said: "There are certain things in her character that I don't like about girls. She is nice looking, and a nice girl. I'll get in bed with her and have cuddle, but that's as far as it'll ever go."
He later added: "She makes me laugh, but I generally get on with girls. I saw something this week that I didn't think was there that I didn't like [her confrontation with Sam]."
Meanwhile, Mario and Corin were talking about JJ in the garden. She said: "Obviously I'm not [his type] in personality or looks, otherwise I would have known."
Mario told her that during the game, he "watched him" looking at Corin when the question was asked, and that when he didn't see her lift her drink, he also chose not to.
He added: "He does like you. No man would get in bed for a cuddle twice. You both need to stop being chicken s**ts and say, 'I like you'."
He then gave her two options: "Either say, 'I like you, do you like me?' or I'm gonna go up and tell him."
Corin pleaded to Mario not to say anything to JJ, adding: "I'm the shyest person, that would spoil my time in here, I wouldn't like it at all. Serious." Mario then promised he wouldn't reveal anything.