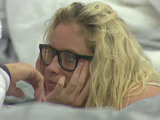 Josie told Jo that she feels "protective" of Corin's feelings, because of her crush on JJ.
As most of the housemates got up this morning, Josie and Jo lay in their beds and discussed events in the house. Talk soon turned to last night's game of
'I Have Never'
, and JJ's
failure
to drink when asked if he fancied another housemate.
The Bristolian told Jo: "Corin's there going, 'I'm embarrassed, I'm embarrassed', and I'm like, 'He's arrogant, I don't like him now'.
"It's your mate and you don't want them to be embarrassed. I feel a bit protective of her."
Jo agreed with Josie, but said of last night's revelation: "It's only that game so you can't even take it that seriously." Josie replied: "But when someone feels like that, you get a bit protective don't you?"
She then acknowledged that JJ was not behaving badly, saying: "He's quite a sweet boy though."