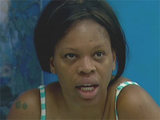 Jo has said that she is sorry for turning into a character that she doesn't like and becoming a "nightmare" to live with.
After recently
threatening
to quit the show, Jo had housemates worried last night when she was called to the Diary Room. Josie lay outside as she waited for the 41-year-old to re-appear. "Jo, I love you girl," she shouted.
As the self-proclaimed "cougar" returned from the Diary Room, she told housemates in the living room: "Sorry, I've been a nightmare. I've turned into a complete knob-block, it's embarrassing."
Josie, John James, JJ and Mario all seemed glad to see Jo remain in the house but the make-up artist felt that it wouldn't be long before she left the house regardless. "I don't think I'll be saved from the public vote," she said.
"I feel like over the last four days I've turned into a character I don't like."
Jo faces the public vote along with Dave, JJ and Sam with one housemate leaving on Friday.