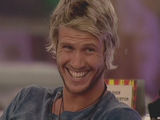 John James and JJ have been discussing their afternoon out of the Big Brother house.
The pair were taken to Sandown to compete in the annual pantomime horse racing contest, in order to secure this week's shopping budget for the house.
John James admitted that they had been kept in solitary confinement at the course and were not permitted to talk to anyone but they had enjoyed the experience.
"I saw three people," John James began, explaining that they were kept under cover for the duration of their visit. "We weren't allowed to talk to anyone… they were giving us banter, but we couldn't say anything back," he said.
JJ admitted that it was strange to be out of the confines of the house and that after a while they wanted to return 'home'. "It was really good, but we were like, 'I wonder what everyone's doing'," he said.
When asked about the race, JJ replied that they were worried they had failed to secure a decent shopping budget. "We didn't think we'd made the top five, it was nerve-racking, but it was such fun," he said.
Later, in a conversation with Mario, JJ reiterated his desire to return to the Big Brother house during the day out: "I was just thinking, 'I cant wait to get back'."
"I'm glad you're back," replied Mario.
"I'm glad I'm back," JJ reaffirmed.