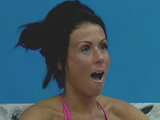 Sam revealed that he doesn't think JJ is interested in pursuing a romance with Corin, after enjoying an alcohol-fuelled party this evening.
Smoking a cigarette with Josie by the carousel, Corin began speaking about her crush on JJ - and attempted to convince Sam to suggest a game of Spin the Bottle so that the two of them could kiss.
"I don't think we should scare JJ anymore," said the graffiti artist hesitantly.
"Sam, is that like, 'Corin don't embarrass yourself?'" exclaimed the Katie Price lookalike, as he admitted: "Yeah. I don't think he's that into it".
"How embarrassing," replied Corin. "Really? Is it that embarrassing?"
Clearly feeling awkward, Sam headed back into the house - but the 29-year-old pursued him indoors. "Tell me the truth, as a mate," persisted Corin. "Should I just keep my mouth quiet? Like, 'Corin don't embarrass yourself on national TV?'"
"I just don't think he's interested," said Sam.
Meanwhile, JJ had been discussing the fact that he isn't attracted to the brunette with the boys, asking them for their advice on how to handle the situation. "If you don't fancy her, you don't fancy her. You don't need to do jack shit," advised John James.
"Maybe there'll be the point when you need to say something," admitted David. "Every time she's getting drunk she's saying stuff!"