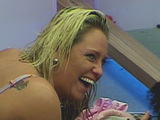 Josie and John James had a mini water fight this afternoon after Josie kept splashing John James with water in the bathroom.
Seeking revenge, John James filled a jug of water and laid in wait for Josie as she hid in the bathroom toilet.
"John, I'll do anything for you not to get me - anything, anything," she shouted.
"Josie, JJ needs the toilet," John James called in an attempt to lure her out. "You're copping it, Josie."
After Josie escaped from the toilet and laid down on the bed, John James poured the large jug of water over her as she shrieked.
"[She] splash[ed] water at me - I told her like I told Sunshine," John James explained to the other housemates.
Joking about events the night before - where John James got annoyed with Sam asking if Josie was alright after an argument - Sam followed Josie to the bedroom and shouted: "What happened? Are you alright Josie? Are you upset?"
However, Josie announced proudly that John James's side of the bed was wet because of his prank, leading the Australian to push her into her side to make that part of the bed just as wet.
Josie then hurried to the bath, where she continued to make John James laugh by falling in it with her towel still wrapped around her.
"That was the best fall yet," John James said through laughs. "I waited for a second to check you were laughing and the moment I heard you laughing I had to crack up."