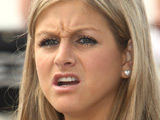 The stars of the upcoming Ultimate Big Brother series are said to be upset that
Nikki Grahame
will be paid twice as much as everyone else, according to reports.
The Big Brother 7 contestant, who infamously re-entered the show after being evicted in 2006, will reportedly pick up £20,000 for her appearance in Ultimate Big Brother – double that of fellow re-entrants.
An insider told the
Daily Star
: "Everyone is getting £10,000 except Nikki Grahame, who is getting £20,000.
"No one can understand why she should get more than anyone else. She whinged and threw tantrums all the way through BB7.
"If anyone is going to get more it should be Brian Dowling."
Former stars including Michelle Bass, Pete Bennett, Nadia Almada, Charley Uchea, Brian Belo and John McCririck will all reportedly be returning to the house.
Ultimate Big Brother will kick off on August 24 and also include the eventual winner of Big Brother 11.