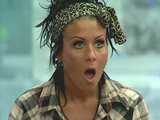 Corin discovered that two of her wigs were missing this afternoon, after Sam stole them over the course of last night and this morning in an effort to wind her up.
As Sam claimed that Corin and Josie were instinctively blaming him without any evidence, Corin tried to shrug off her annoyance until she realised that one of the wigs in question was her so-called 'eviction night' wig.
"I'm being serious, who took it?" Corin asked her fellow housemates. "I'm not bothered but I don't want it screwed up in a box somewhere."
After being left on their own, Corin confirmed to Josie that she wasn't upset but would fake tears to the others to find out the identity of the thief.
"With people like Sam Pepper you just need to get even," Josie warned, before declaring that she was going to put thumb-sucking cream on his toothbrush again.
"You're the one who hides things," Corin told Sam as he re-entered the bedroom. "I won't give you the satisfaction of arguing."
While Sam continued to deny any involvement in the wigs' disappearance, Corin soon discovered both hair pieces above the kitchen oven, much to his disappointment.
"I can't believe that's just happened," Sam told the others outside, while JJ noted that Corin was unlikely to let the wigs out of her sight from now on.