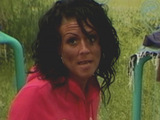 Mario comforted Corin this evening when she became upset following an argument with Sam.
The row saw Sam accuse Corin of having a brain the size of a pea and being "too orange".
"I know I properly sound pathetic, but I really felt I had friends in here," Corin told Mario. "I wouldn't do that to people I think of as mates. Why would they do that?"
She continued to say that she had felt completely on her own during the argument with Sam and John James this morning, and noticed that Josie had been the only housemate to stick up for her.
"I feel like I'm getting attacked," Corin said of her past few days in the house. "I put up with all that stuff in school, I'm so ready to go home now."
Mario warned her that if John James and Sam wanted to make themselves look like idiots on national television, she should let them.
"How can you have an argument with people when they're both looking at each other and laughing?" Corin continued as she fought back tears.
Corin admitted that she had felt humiliated earlier, and Mario agreed that John James at least should know better.