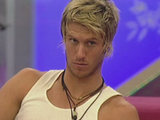 John James has refused to wear a crab costume as part of this week's shopping task.
Josie earlier chose him to wear the outfit for the duration of the day as her part of the challenge, but when he returned from the Diary Room he revealed that he wouldn't be taking part.
"John, I can't believe you have just done that after having a go at Corin," Sam told him as the housemates questioned why John James wouldn't wear the costume.
Earlier today, both Sam and John James had argued with Corin when she refused to give up her make-up as part of the task.
"It just goes to show if he's really decided not to wear it after all the fuss he made about my make-up," Corin told Mario in the bedroom.
John James then claimed that because not all housemates were giving 100% in the task, he didn't feel that he wanted to take part anymore.
"No-one here is going to force me to do anything," John James told housemates as they pleaded with him to change his mind.
"I'm not interested in the money, I"m not interested in winning, I'm not interested in staying," he continued. "They've got nothing that I want!"
David told John James that he had never had a problem with tasks before and noted occasions where he had willingly worn a wedding dress, an egg costume and a pantomime horse outfit.
Corin then joined housemates in the garden and explained to John James that she had felt exactly as he did now when John James had accused her of not trying in the task earlier.
"You jumped right on me then. I can understand why you wouldn't want to wear a crab costume," Corin told him.
John James wouldn't be swayed on his decision and implied that Corin's refusal to remove her make-up was what had led him to act in this way.