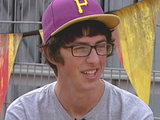 Corin and Sam engaged in a heated argument this afternoon following various jibes between the pair throughout the day.
While Corin and John James argued about his refusal to take part in the shopping task, Sam tried to interject and give his opinion on Corin's actions.
"Sam, you can stop jumping on the bandwagon and have a mind of your own!" Josie warned as she watched from the smoking bench.
"Grow up, Sam Pepper," Corin told Sam when he began laughing at her. "For a 21-year-old you act so immature."
"You're meant to be 30 and you act like a little girl," Sam replied. "You can keep your little rats on your head too."
Josie then told Sam not to be rude about people as Corin questioned why Sam felt he was allowed to talk to her like that.
As they continued to row, Corin asked Sam why he was always looking to John James for approval while arguing with her.
"I've got three days left in this house and I'm not having someone like you bringing me down," Corin announced. "You'll never drag me down, love."
David stepped in and told Sam that he was an intelligent guy and didn't need to insult people when arguing with them.
"I'm going to tell people what I think," Sam said. "Corin, you're too orange!"
"Do you think I care what you think?" Corin retorted. "I'm not going to change my mind because Sammy Pepper tells me to."
As the argument began to die down, Corin headed inside to talk to Mario in the bedroom about what had just happened.