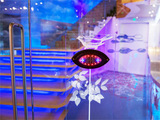 Housemates have been evacuated from the Big Brother house in the wake of a freak storm that flooded the compound this evening.
The drama began unfolding when Josie and John James were cuddling in bed, and realised that the roof above them had sprung a leak.
"The house is leaking!" cried Mario, heading over to the bed to survey the situation. Shortly afterwards, the group were ushered into a nearby building.
Taking the shock evacuation in good spirits, Sam joked: "Wait a minute, I'm a winner! Where's my hundred grand?"
Meanwhile, the former mole admitted: "All I was looking forward to tonight was a cup of tea and some custard creams."
According to a message on the Channel 4 website, the housemates are all "in good spirits and enjoying their unexpected trip out of the compound".
There is no further information available at this time.
> Channel 4 cuts live feed due to weather