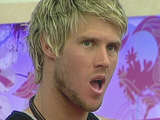 John James has revealed to JJ that he had a dream last night where he saw the housemates' odds of winning Big Brother.
Speaking to his close friend in task room, which is currently being used as a bedroom after the house flood, the Australian commented that JJ stood a good chance of winning the series if his dream was anything to go by.
"I had a dream we snuck out and saw the odds," John James began.
"Josie was favourite to win... you were second favourite and there was nothing in between you."
However, John James continued by revealing that his own odds of reaching the final were not so favourable.
"I was last - I was one dollar behind Coz [Corin]," he said. "She was least favourite, she was nine dollars to one, I was eight dollars to one."
JJ argued with the Australian's claims, saying: "Mate, there's more chance you'll be here than I'll be here [in the final]."
John James's dream is currently inaccurate as Corin is on odds of 9/4 with Paddy Power and JJ and John James are on 50/1 and 28/1 respectively.