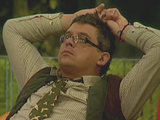 Corin became upset with under-fire David this evening, as the minister was branded 'two-faced' by Josie.
Admitting that she was also upset with him due to his failure to defend her when Sam stole her make-up and wigs, the Katie Price lookalike had a heart-to-heart with the apologetic dad-of-four in the garden.
"I don't feel that you would slag me off behind my back... I've never felt like that," she said, after he insisted that he hadn't been "two-faced" towards her at all during his time in the house. "Since Sammy came in it's been awful for me, it's got nothing to do with the make-up," she said, adding that she'd been hurt by the fact that David had been in on the 'Hair Today Gone Tomorrow' plan.
"I did know but the reason that I didn't say anything was because it was part of something else that was happening," he said. "Sam had said to me that this was what
Big Brother's Little Brother
had told him to do... the reason I went along with that was because I knew that that was part of what he was doing."
Corin remained unconvinced by his excuse, however. "Dave I was upset. I was crying, I was in tears. I'm all up for having a laugh but when it's upsetting someone it's not a laugh. I thought all my friends would say, 'Sammy, give her her make-up back', and the only person that stuck up for me was Josie," she argued.
"I never thought I'd want to leave this house but Friday can't come fast enough for me now," admitted Corin, explaining that she feels insecure without her make-up. "It made me feel like everyone was laughing at me."
David again admitted that he did know what Sam was up to but would never talk about her behind her back, and said that he understood how upset she was about losing her make-up and wigs because his wife would be the same.
"It's Thursday tomorrow so I just want to enjoy the last day," she concluded, as the duo hugged and vowed to put the episode behind them.