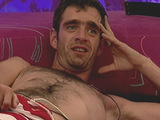 Nathan was the third ex-housemate to re-enter the compound today, enjoying a 'date' with a disbelieving Corin in the task room and telling her that he wants her to win.
"Nathan, can you believe it?" she exclaimed, entering the room and clocking the former contestant alongside a spread of champagne, pizza and spaghetti.
"Oh darling!" he said, embracing her in a hug. "How's it going?"
"Oh my God I've well missed you," revealed the stunned Katie Price lookalike. "It's been shit. It's just going so shit."
"Are you not enjoying it princess?" he asked, concerned, as she began regaling him with tales about how upset she's been by John James's behaviour.
"John's absolutely winding me up," she admitted, as Nathan replied: "John's a dickhead. I don't want to talk about him."
He continued: "I've proper missed you man. I just want to shake the telly saying, 'Don't put up with them being dickheads!' I had to stop watching because I was getting angry."
He advised her to put "two fingers up at the people that piss you off... you'll be out of here and partying before long", and added: "Keep your chin up. Don't take any shit off any of them pricks out there. You're better than them... I'm so proud to be your mate."
The Yorkshireman also told his friend that he was tipping her to win. "Darling this is your time. You're going to box it off," he encouraged. "I'll be there at the final with a Team Corin T-shirt on. I've been flying the flag! Team Corin all the way. You can do this kid."