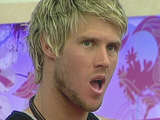 Corin has warned John James about Nathan after she revealed that the former housemate is in a relationship with Rachael.
Earlier, John James had a
reunion
with Rachael, during which the pair argued and John James insulted the Beyoncé lookalike for "selling her body" to Nuts magazine.
This evening, Corin had a
dinner date
with Nathan, where he told her about his
relationship
with Rachael and called John James a "dickhead".
When Corin returned to the house, she told the other housemates of her time with Nathan. She explained how she had a choice between a smart dinner with JJ, or a cheap dinner wearing a bin-bag with Nathan.
John James asked Corin if Nathan was "pissed" with him, and she replied: "Yeah, because he's with Rachael, they're an item." The housemates seemed pleasantly surprised with the news.
David asked Corin if she was "gutted" that Nathan had a girlfriend, and she replied: "A little but I'm happy that he's happy."
Realising that Nathan probably saw his earlier encounter with Rachael, John James said: "He would have been raging." Corin told him: "They'd need security at the wrap party. That's his girlfriend, and you can't get more degrading than that [referring to John James's "selling her body" comment]."
Corin continued: "Most guys would find that the most disrespectful thing to say to a woman. But then you are quite disrespectful towards most women. You give it so you can take it. If someone said that to your wife, how mad would you be? You can't talk to women like that. It might be entertaining to a certain degree but it's just arrogance."
John James seemed to agree, saying: "I don't blame him, really."
Later, John James said: "[Nathan] will tear me up, for sure. He'll swing, definitely." Mario told him: "I'm sure if you just apologise it will be fine. If you mean it."