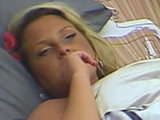 Josie has told Corin that she feels she has changed for the worse during her time in the house.
The conversation began when the pair discussed how the house atmosphere had changed over the weeks, with Josie saying that she feels she has become boring.
"All I do is go to bed," Josie explained. "I feel like I'm not as fun."
"I think the house has just taken its toll," Corin replied.
"I feel disappointed in myself, I used to be somebody!" Josie said.
She went on to explain that she felt ungrateful for shouting at Big Brother last night when John James had wanted to leave and suggested that it may have helped sway the public against her.
Speaking to Sam later, she told him she definitely wouldn't win the show as she felt that in recent weeks her bitchy side had come out during arguments.