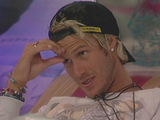 John James has decided to remain in the house after participating in a phone call with Nathan in the Diary Room.
At around 12pm, the Australian housemate left the Diary Room and announced that he had decided to quit after
discovering
that ex-housemate Nathan was furious over comments John James made to his girlfriend, BB11's first evictee Rachael, upon her
return to the house
yesterday.
As fellow housemates begged him to reconsider and stated that he would look like a sore loser and a coward for leaving by the back door, John James remained adamant.
He argued: "The only difference between walking out now and tomorrow night is you're going to get your banter out there, your speech with Davina, I don't care about that. What's the difference?"
After returning to the Diary Room, John James told the rest of the house that Big Brother had contacted Nathan, who apparently arranged to have breakfast with his mother this morning.
"They're on a friendly basis. Mum is aware of the situation and she wants me to walk out the front door," he detailed. "Nathan has not threatened any violent behaviour and will not threaten any violent behaviour."
However, he said that he still intended to leave the house unless he could speak to Nathan personally, a wish which was granted moments later when Big Brother allowed him to have a telephone conversation with the trainee joiner in the Diary Room.
"He said there's no hard feelings," John James reported. "He said I said something upsetting to somebody that he cares very dearly about."
"He said she came in here hoping to make peace," he added, arguing that Rachael had been "bantering" as much as he was. "But whatever, it doesn't bother me. I'm willing to forget about that, just move on."
As John James confirmed that had been reassured enough to remain in the house, Josie praised Nathan for his efforts.
"Do you know what, fair play to him," she said.
"I knew he'd step up to the plate, old Nathey," David added. "Good boy."